If you go upstairs from 41F (where words like "Keep Out" or "Do not Enter" are written on the wall), and get on the warp pad right after the stairs in 42F, "Across the Mirror" starts immediately.
About
Game System
A bunch of enemies appear from the mirror on both sides of the floor. You'll have to defeat all enemies to get out of the room.
You may be off guard since weak enemies appear first, but stronger enemies will gradually appear. Moreover, a lot of enemies appear one after another, so it's going to be a very tough battle.
Puppets and potions are sold at this floor and can buy them as many as you want, but enemies will appear continuously, so you'll have to tap quickly so as not to be killed during shopping.
Standard for Challenge
Defense value 60 will be one of the criteria. Else, one of the followings below can also be a criteria.
Have already reached 50F
Take almost no damage from OGRE BERSERKER
Can battle against 2 or 3 FATMAN LORDS at once without puppets
Enemies
| | Monster A | Monster B |
| --- | --- | --- |
| 1. | GOBLIN | GOBLIN MAGE |
| 2. | KOBOLD | GNOLL |
| 3. | SKELETON | UNDEAD WARRIOR |
| 4. | BLUE KNIGHT | SILVER KNIGHT |
| 5. | LOUD CRAW | ARMAEATER |
| 6. | ORC | ORC MAGE |
| 7. | VENOM | PLAGUE BEARER |
| 8. | OGRE LORD | OGRE |
| 9. | REAPER | |
| 10. | BLACK KNIGHT | SORCERER |
| 11. | GOLEM | WIZARD |
| 12. | MISTRESS | ASSASSIN |
| 13. | LIZARDMAN | |
| 14. | HELL DIVER | |
| 15. | RED KNIGHT | DOOMRIDER |
| 16. | OGRE BERSERKER | OGRE MAGE |
| 17. | FATMAN LORD | |
Enemies in "Monster A" will appear in the order of the table, 8 ~ 14 each.
"Monster B" randomly appears instead of "Monster A" (usually in a low frequency).
Remarks
Certain enemies such as LIZARDMAN and HELL DIVER have no "Monster B's"
Caution 1
If you hear someone saying something during the battle, then the big rock is going to tumble across the floor (four times in total).
So I prefer playing where you can make sounds.
Caution 2
If you have already reached 50F when challenging "Across the Mirror", then KWAISEI will be appearing on both sides of the floor after you defeat the last enemy.
But if your challenge is the first time, they won't appear until you get "NOSTRUM" on the central warp pad. In this case, you'll have time to prepare for the KWAISEI battle.
Walkthroughs
Abilities
My ability was same as the FINAL BOSS BATTLE, which is shown below.
(I'm sorry, each items are in Japanese…)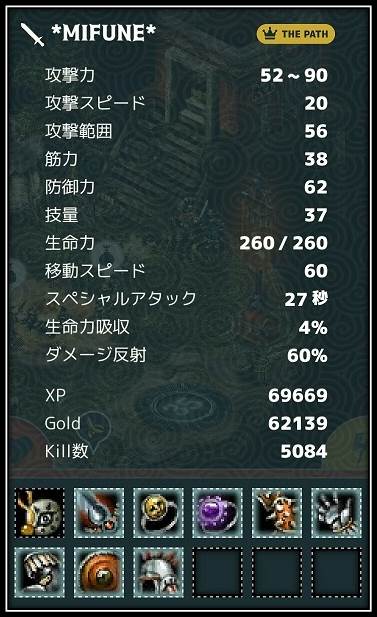 If you can use puppets strategically, you'll be able to complete in lower abilities. In the case shown above, you only have to use puppets when FATMAN LORDS began to appear.
Equipments
Equipments are also same as FINAL BOSS BATTLE.

| Class | Equipment |
| --- | --- |
| Sword | Apocalypse(+2) |
| Armor | Spiked Armor of Rod(+26) |
| Shield | Wavy Shield of Ruevit(+8) |
| Helm | "UHU-UMA" Helm(+4) |
| Gloves | Gauntlets of Porevit(+2) |
| Boots | Greaves of Zorya(+4) |
| Ring1 | Ring of Zhiva(+6) |
| Ring2 | "UMA-UMA" Ring(0) |
Value of defense is shown in the parentheses.
(Some items' names and abilities may change by updates.)
Puppets & Items
Since you'll have to fight with many enemies at once, life absorption puppet is useful even if your defense is high enough.
Here are the three items I usually prepare before the battle.
Puppet of Porevit
Puppet of Simargl
Potion (just in case)
After the Battle
You can get "Nostrum" for the first time reward.
Selling items in the chests will be a good way to earn golds.
If you get used to this event, it will be more easier to get rare items as well as golds.